Blog
|

Lent 101: How Fasting Can Fill Us
Lent 101: How Fasting Can Fill Us
It's a new year. Thank goodness.
And while we're still in the heart of winter, the days are slowly but surely getting longer. In this season, the slow thaw of late winter into early spring, the liturgical calendar brings us Lent.
Although often associated with the Catholic church or other liturgical denominations, these days, Lent is being observed by more and more church communities. If you're not familiar, the liturgical churches follow a calendar that moves through different periods of feasting and fasting and Lent is the 40 days (or 46 days, if you count Sundays) of fasting that leads up to the feast of Easter.
First formalized in the Council of Nicea in 325, Lent unites two principles widely noted in the Bible: fasting and the significance of the number 40. Fasting is a spiritual discipline that entails abstaining from something— often food, comforts, or entertainment— for the purpose of increased intimacy with God and 40 is the traditional number of spiritual testing. The Israelites spent 40 years in the desert before finding the promised land, Noah spent 40 days in the flood before finding dry ground, and, most saliently, Jesus spent 40 days fasting in the desert before he started his ministry.
Lent is an opportunity for Christ followers, here and now, to practice seeking God through fasting. Fasting takes away distractions— or the things we use to numb ourselves— so we can learn to be more present with God. When we empty ourselves, we are creating space for God to fill us with what we truly need and learning to trust that God can provide that for us.
So how do you choose what to fast from during Lent? 40 (or 46) days is a lot longer than it sounds, so it's important to feel fully aligned about how you choose fast and to be prepared. Take some time alone and ask God to search your heart and to show you what is keeping you from encountering the fullness of Christ and the fullness of yourself in Christ. Make a list of things that come to mind, and meditate on them, surrendering them to God. Trust the prompting of the Holy Spirit, and ask God to be with you and transform you during your fast. Write it all down to refer to as you continue to fast.
Although a fast is by definition a deprivation, it leaves a vacuum to be filled, and it's important to be intentional with how you fill it. If you give up social media, will you replace that instinct to scroll through your phone with online shopping or games? Or will you use that urge to scroll to turn back to God and practice being with yourself in silence? Keep in mind, this is just a reminder to be mindful with discipline, not a prescription for how you should spend your time.
Just like with any spiritual discipline, fasting can either be a tool to lean into discomfort and encounter more of God, or it can be an arbitrary hoop to jump through with no real transformation involved. Prayer, meditation, and conversations with trusted friends are great ways to continually reconnect your heart and spirit to your actions if you find yourself just going through the motions.
And remember, there's beauty and balance to seasons. After a fast, a feast awaits. So step into Lent with confidence; when we empty ourselves, we will be filled again.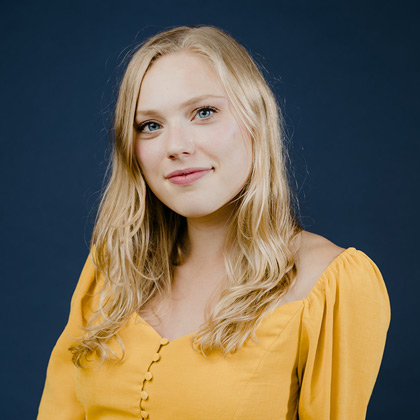 About the Author
Emma Tarp is a writer and worship leader based in Minneapolis, MN. On her best days, she's highlighter-deep in a good book or teaching herself to sew. On her other best days, she's helping passionate folks and inspired businesses put words to their work. Find out more at emmatarp.com.