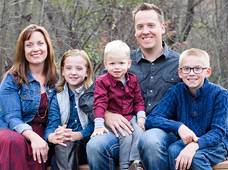 Hi everyone! Welcome to MotionWorship.com. I'm Josiah Smith, the founder, owner, and producer of most of the videos here on the site. All of my subscribers have a direct communication link to me, and it is my pleasure to work with and take requests from 7,000+ members in over 100 different countries.
I live in Brooklyn Park, MN with my wonderful wife Shannon and our 3 awesome kids: Ethan, Naomi and Levi! Shannon was once an RN working in women's health and pediatrics, now a full time mom. As for me – Motion Worship has been my full time job since June 2011, serving an absolutely wonderful group of church leaders, Christian organizations, and businesses.
Meet the Staff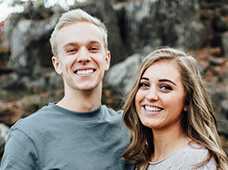 I'm Caleb Hinrichs, and I live in Champlin, MN with my amazing wife Cally. If I'm not making videos you might find me trying a new restaurant in town, playing disc golf, or attempting to cook. I graduated with a degree in media production from the University of Northwestern and worked as a videographer in a local church for four years. Having been on staff at a church, I know how valuable good media with a message is, which is why I am so thrilled to be part of the Motion Worship team and to help create amazing media for churches around the world.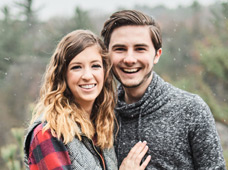 Hey! My name is Chris Fleming and I'm a marketing major from the University of Northwestern, St. Paul. Both my beautiful wife, Erin, and I grew up in the same church together and now attend Grace Church in Eden Prairie, MN. Outside of Motion Worship, I avidly play and teach drums in the Minneapolis music community, play disc golf (the only "sport" I'm good at), and roast my own coffee. I believe quality media has a strong connection to a congregation's experience at a church and putting our best foot forward to produce well-crafted church assets helps to further the Kingdom of God. I'm absolutely pumped to be a part of the team at Motion Worship and am excited to build useful tools for all the churches in our network.
The Motion Worship Story (by Josiah)
I began leading worship, producing worship services, and designing Christian multimedia in 2001. Back then, I remember my church was on the cutting edge, producing custom images to be displayed behind every song. I put hours into photoshopping images together that fit the lyrics. It was great. Then, in 2005, I was introduced to Media Shout, and everything changed. At the time there simply weren't many resources out there. Mostly clouds, nature and light rays. So after many weeks of prayer and video production, I started Motion Worship in 2006 with just 40 videos.
For four years, I reinvested the income into the business and began sponsoring missionary families. During this time I also worked in young adult ministry, and led worship at conferences across the Midwest with my band, Josiah Smith Band (I've had the great honor and pleasure of partnering with Greg Speck on numerous occasions – I love that guy).
In January 2010, I decided that I must give more to my growing subscriber base, so I prayerfully began taking a small salary and working from home 2 days a week. God blessed this investment beyond my wildest imaginings. In 18 months, I was able to double the number of videos available on the site and vastly improve production quality. The number of subscribers grew from 700 to 1,600, and I was able to begin fully supporting 3 missionary families and a World Vision family.
God has made abundantly clear his desire for this business to be my full time ministry to the Church, fulfilling its two missions:
1. To provide churches of every size, in every nation, with affordable, high-quality multimedia.
2. To advocate and provide support for native missions as well as the poor and neglected.
Thank you so much for visiting – if you have any questions, feel free to email me or check out the F.A.Q. below. God bless!
F.A.Q.
How much is a membership?
We have 3 membership levels: A Full Access Membership costs $79 per year, starting at the time of the subscription. It includes download access to all videos on the site, including any new videos added during the one-year period. The Motions Plus Membership ($50/year) includes all motions, countdowns, and still images as well as any new media in those categories added during the one-year period (note: mini-movies are not available under this membership). Finally, the Mini-Movie Membership ($29/year) provides download access to mini-movies only, including new mini-movies added during the one-year period. All memberships auto-renew until canceled, and you'll receive an email notice 5 days before renewal. You can cancel at any time and still have access for the full subscription period.
How does it work?
Once you register and pay you get immediate download access to site content as described above. You can literally register, then go and download all the videos & stills available to you right away. You'll also receive regular updates without any additional fees.
How do I download the videos?
After you register and login, download buttons will appear on each video's detail page & under every video thumbnail. I encourage users to download the videos they need on a week to week basis. This saves time, saves bandwidth, and after a year of membership you will have built a huge video library. But, as I said, you are welcome to download as many videos as often as you like.
How often do you update?
10-12 new mini-movies are added each calendar year. In addition, new motions, stills and countdowns are added every few weeks, oftentimes in batches. I typically upload a large number of videos leading up to holidays.
Can I request a video?
Absolutely! I love producing subscriber requests – it gives me wonderful creative ideas and provides the highest level of value and service. All subscriber requests are added to my production list if I feel it is within my power to produce the video and a value to most or all of my membership. I accept requests via email. If a request is too specific to a single member or ministry, I will occasionally offer to produce the video at contract price.
What download formats do you offer?
My videos are all available in 480p SD resolution; all videos created in 2010 and later are available in both SD & 720p HD resolution. Registered members can download all of the following: WMV, suggested for windows users, MP4, suggested for Mac users, and then I also offer MPG1 format which isn't as high of quality but guaranteed to work on all systems and software. Click here to download a free sample video and see the various formats.
Will your backgrounds work with my presentation software?
My backgrounds work with just about every presentation software –
Media Shout
ProPresenter
ShareFaith Presenter
Easy Worship
Song Show Plus
Liveworship
and many, many, many more…
What are my payment options?
I accept Visa, Mastercard, American Express, and Discover. You can also pay with PayPal.
Can I use your videos or stills in my commercial project, website, paid conference, paid concert, DVD, movie, book, TV station, etc.?
The standard Motion Worship license only covers display of the videos at one physical location (such as a church building). Videos are never licensed royalty free and cannot be used in any commercial (for profit) ventures. Editing is allowed for non-profit and for display only. Please contact me with questions or if you wish to purchase additional licensing.
We are a multi-site church with several campuses – is this a problem?
Motion Worship offers a single site license. This means you need one subscription for each physical address where the media will be displayed. Please purchase additional memberships for each of your campuses.
Why is a membership so expensive?
What? Really? If I'm not mistaken it should be about the cheapest thing out there. I mean, if you do the math on a Full Access Membership, the videos are less than 10 cents each!
Okay, then, why is a membership so cheap?
My purpose is to serve the church. I know that smaller congregations who desire to use multimedia in their services simply don't have the budget to keep buying DVDs and online downloads (especially at $7-15 a shot!). So my hope is this site will be a valuable resource that is affordable for congregations, and still be able to cover my expenses, sponsor missionaries and give money to the poor. Furthermore, as a worship leader, I use these backgrounds to enhance worship at conferences and church services – so I'm quite happy to share with anyone who finds them useful to this end.

What if I forget my login/password?
Click on the "account" link in the main menu. There's a place to request a lost password, with an option to enter your email to retrieve it.

What if I forget the email I signed up with?
You can email me with your information – I'll search the database for your login/email.

How do I cancel?
Click on the "account" link in the main menu. Cancellation is under the "Your Payment History" tab.
LEGAL:
PRIVACY POLICY: click here to view
LICENSE AGREEMENT: click here to view
WEBSITE TERMS: click here to view
RETURN POLICY: Motion Worship LLC offers only digital goods and accepts no returns or exchanges.
CANCELLATION POLICY: A subscription may be canceled at any time – access to paid content will continue until one year after the initial subscription date.
REFUND POLICY: Refunds may be provided up to 5 days after the initial date of the subscription, provided that no paid content has been downloaded by the subscriber and the subscription is canceled. If log records show that the subscriber has downloaded paid content, any refund requests will be denied. Refunds for subscription renewals may be provided up to 5 days after the renewal date, but only at the discretion of Motion Worship LLC, and only after cancellation of the subscription.
DELIVERY / SHIPPING POLICY: Motion Worship LLC offers only digital goods and only promises consistent digital delivery of paid content. In the event of a technical failure, digital goods may not be accessible for a short period. Motion Worship LLC is committed to keeping downtime to an absolute minimum.
CURRENCY: All transactions are conducted in U.S. Dollars.
RECURRING CHARGES: The subscriber accepts that pending cancellation they will receive annual charges for the subscription in the amounts detailed in the subscription product description.